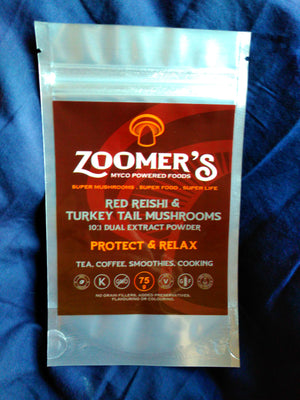 MUSHROOM EXTRACT - RED REISHI & TURKEY TAIL - ZOOMER'S MYCO POWERED FOODS - PROTECT & CALM
Sale price Price $56.00 Regular price Unit price / per
PROTECT & CALM
Welcome to the world of ZOOMER'S Myco Powered Foods
SUPER COFFEE, SUPER FOOD, SUPER LIFE
You have arrived to the healing world and flexibility of extracts. The concentrate powders can be used in: Smoothies, Teas, Coffees, Soups, Pizza... cooking & baking food.

Generally accepted daily recommendation consumption is 3g/day (approx 1 teaspoon).

This package is 75g (approx 25 days worth)

ZOOMER'S MYCO FOODS 
TECHNICAL DATA SHEET for MUSHROOM EXTRACT



1. Ling Zhi ( Reishi )Mushroom
- Anti-cancer and anti-aging.
- Anti-tumour and anti radiation.
- To improve the immune system.
- To prolong life and improve the skin functions.
- To lower blood sugar and cholesterol.
- To remove anxiety, anti-fatigue, anti-insomnia, anti-amnesia, improve sleep.


2. Turkey Tail Mushroom
Appearance: Brown Yellow Powder
Benefits
- Resisting bacteria, anti-inflammation
- It can improve immune system.
- Protects and repairs liver disease and liver necrosis
- Anti tumour, it can effectively inhibit the cancer cell activity
- Lowering blood sugar, it can effectively inhibit the formation and development of
atherosclerotic.
- Restrains central nervous system.
**NOT ALL INGREDIENTS IN TECHNICAL DATA SHEET ARE INCLUDED IN ALL PRODUCTS. PLEASE ADVISE PRODUCT LABELLING FOR SPECIFIC INGREDIENTS.